VoIP Data Networking
The Future of Networking Telecommunications
VoIP is naturally suited to sending voice transmissions over standard data networking lines. It's adapted to a packet-switched network just like your computer instead of circuit-switched transmission lines. It can be deployed over any IP network, including networks that don't connect to the rest of the Internet.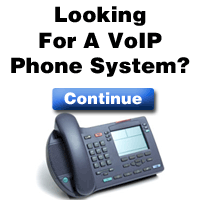 Because it uses the Internet, VoIP data networking communications are much cheaper than traditional phone lines. Part of the savings comes from using a single line to send both voice and data, especially when you have more network capacity than you're currently using. A business that has just downsized or outsourced, for instance, should consider VoIP data networking to eliminate standard phone lines instead of eliminating excess capacity. Also, businesses that are growing and wish to replace their older, traditional voice systems should also consider switching.
Today, VoIP data networking is in its infancy, and is sometimes very different from using traditional telecommunications. But if you have a good stable network infrastructure that has little down time, VoIP data networking is worth the investment in training and change. Cost savings for a large company can be an eye opening experience. Have you checked your telephone bill recently? Imagine reducing it by as much as 50 - 80% and you'll get the idea.
In addition to the cost savings, VoIP data networking allows you to use some other functions that aren't available on standard telecommunications lines, like routing your calls to wherever you are instead of to your telephone. You can take your VoIP phone with you almost anywhere; connect to the Internet, and you're ready to go. VoIP data networking allows you to use online services like video conversation and file exchanging while you're talking, too.
VoIP is a very new technology and is in a state of change. There are some standardization issues. Because of the way you can move phones around with VoIP, your 911 service may not be perfect, but VoIP is quickly becoming an industry standard. The FCC is instituting some serious oversight to ensure your VoIP is as good as the traditional phone services you're used to having.
More VoIP network cards were shipped last year than standard telephone connections. Chances are, if you switch to VoIP, you'll notice no change at all to the way you use your business phone - except the loss of a very large monthly phone bill.
Cost Savings of VoIP Data Networking
When you consider how much your standard phone line costs you and compare it to what VoIP will cost, you'll quickly see the advantages of VoIP. There is a learning curve for your network administrator and your telecommunications specialists, but it's more than offset by the cost savings after a couple of months, let alone a year. Look into it. You'll be glad you did when you're taking your office calls from home, your business slashes its telecommunications bills in half and when you pay your own phone bills.