VoIP FAQ's
VoIP FAQ's or Frequently Asked Questions are addressed on this page. If you have a question about VoIP, then send it in and we'll address it on this page so that others may benefit as well.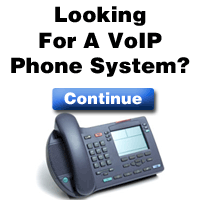 What is VoIP?
VoIP stands for Voice Over Internet Protocol or Voice Over IP. VoIP is the method by which you can send your voice (analog data) over the Internet (digital data) to an end-user who receives the message.
How does VoIP work?
A VoIP gateway converts the analog voice data into digital data packets which are sent over a broadband Internet connection to a VoIP server that forwards the message to the receiving party.
How can I use VoIP at home?
You can use VoIP at home currently with a free application such as Skype which lets you talk from your PC to another person who also has Skype on their PC for free anywhere in the world. You can also get a VoIP phone with a VoIP service provider or you can use your regular phone with a VoIP telephone adapter plus a service provider.
I'm in business and would like to replace my corporation's current PBX system with VoIP. Is this possible?
Yes, many companies are doing just this. VoIP is a very cost-effective method for companies who want to upgrade their old PBX systems and VoIP allows for new features that traditional PBX systems simply do not. Also VoIP web conferencing has come of age and also offers cost savings and many new features not available with traditional web conferencing methods.
When can I replace my cell phone with a VoIP phone?
Most likely in the next couple of years. Right now cell phone service providers are developing cell phones that can roam for Wifi VoIP or traditional networks in order to give you the greatest savings dependent upon location. Wifi hotspots, however, do not currently cover as much area as cellular does, so it will take providers some time to work this issue out.
What is the biggest disadvantage to going VoIP with my home phone right now?
The biggest disadvantage is that currently all VoIP providers to not offer emergency 911 service in all areas. The FCC has recently ruled though that this is a mandatory requirement that must be completed by September 2005.